FOLLOW ME ON MY VIRTUAL BOOK TOUR
Get Instant Access to 3 FREE Chapters from my book,

RECONCILED!
You'll be entered into a drawing to receive a FREE autographed copy of my book.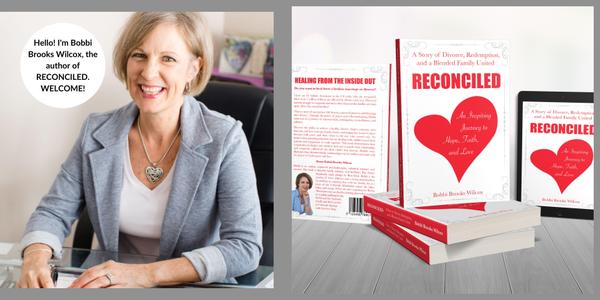 RECONCILED is my Story of Divorce, Redemption, and a Blended Family United!
Sign up to get 3 FREE Chapters From My Book, RECONCILED!
I picked three of my favorite chapters from my book to share with you. Here are the three chapters you will receive:
Chapter 6 is on Self-Examination.
Chapter 7 is on Self-Love.
Chapter 8 is on Forgiving the Past, Moving On.
In each chapter there is something to learn and take away. You will:
Gain insight into nurturing self-love and self-care.

Discover how to forgive someone who's hurt you through a self-forgiveness process.

Learn how to shift your paradigm through listening to others from your heart.

And so much more.
Sign Up Below to follow me on my Virtual Book Tour and to Get 3 FREE Chapters from RECONCILED.
Your privacy is important to me. Your personal information will never be shared or sold to a third party for any reason.
Double check your email for accuracy to make certain you received access to my 3 Free Chapters of my book, RECONCILED.